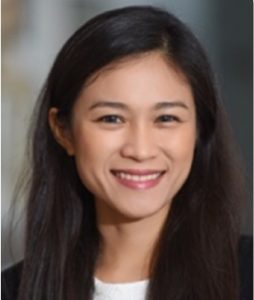 Instructor, Faculty of Medicine
King Mongkut's Institute of Technology Ladkrabang
Bachelor of Science (Biology), 2005
Mahidol University
Master of Science (Infectious Disease and Epidemiology), 2006
Mahidol University
Doctor of Philosophy (Medical Microbiology), 2014
Chulalongkorn University
Postdoctoral Associate
Division of Investigative and Genomics Pathology, Department of Pathology, Texas Children's Hospital and Department of pathology and immunology, Baylor College of Medicine, Texas, USA
Visiting Graduate Student
Texas Children's Microbiome Center, Department of Pathology, Texas Children's Hospital and Department of pathology and immunology, Baylor College of Medicine, Texas, USA
My lab is focused on gut microbiome, including the interaction of microbes with epithelium and immune cells in the induction of intestinal disease. My back ground research is the role of probiotic – Lactobacillus spp. such as L. rhamnosus and L. casei suppresses Clostridium difficile-induced pro-inflammatory cytokine by colonic epithelial cells. My current project is to understand the underlying pathogenic mechanisms and to translate such findings into new therapeutic strategies of Clostridium difficile infection (CDI) which this project collaborate with microbiome center at Texas children's hospital, Baylor College of Medicine, USA. I'm also interested in studying the role of gut microbiota related to non-communicable disease (NCD) such as type 2 diabetes mellitus (T2DM) in the aspect of host immune – microbial interactions in the gastrointestinal tract using a range of techniques that include computational and structural biology, global metabolomics and proteomics, real-time molecular interactions, cell culture and humanized disease models. My goal is identifying new precision-based microbial therapy for T2DM based on metagenomics of population-scale and functional microbiome analysis.
1.  Hung LY, Parathan P, Boonma P, Wu Q, Wang Y, Haag A, et al. Antibiotic exposure post weaning disrupts the neurochemistry and function of enteric neurons mediating colonic motor activity. Am J Physiol Gastrointest Liver Physiol. 2020 May.
2.  Andersson JA, Peniche AG, Galindo CL, Boonma P, Sha J, Luna RA, Savidge TC, Chopra AK, Dann SM. New Host-Directed Therapeutics for the Treatment of Clostridioides difficile Infection. mBio. 2020 Mar;11(2).
3.  Hung LY, Boonma P, Unterweger P, Parathan P, Haag A, Luna RA, Bornstein JC, Savidge TC, Foong JPP. Neonatal Antibiotics Disrupt Motility and Enteric Neural Circuits in Mouse Colon. Cell Mol Gastroenterol Hepatol. 2019 Apr.
4.  Peniche AG, Spinler JK, Boonma P, Savidge TC, Dann SM. Aging impairs protective host defenses against Clostridioides (Clostridium) difficile infection in mice by suppressing neutrophil and IL-22 mediated immunity. Anaerobe. 2018 Aug 9.
5. Bajaj JS, Kakiyama G, Savidge T, Takei H, Kassam ZA, Fagan A, et al. Antibiotic‐Associated Disruption of Microbiota Composition and Function in Cirrhosis is Restored by Fecal Transplant. Hepatology. 2018 Apr 17.
6.  Spinler JK, Auchtung J, Brown A, Boonma P, Oezguen N, Ross CL, Luna RA, Runge J, Versalovic J, Peniche A, Dann SM, Britton RA, Haag A, Savidge TC. Next-generation probiotics targeting Clostridium difficile through precursor-directed antimicrobial biosynthesis. Infect Immun. 2017; 20: 85(10). pii: e00303-17.
7.  Spinler JK, Brown A, Ross CL, Boonma P, Conner ME, Savidge TC. Administration of probiotic kefir to mice with Clostridium difficile infection exacerbates disease. Anaerobe. 2016; 40:54-7.
8.  Boonma P, Spinler JK, Venable SF, Versalovic J, Tumwasorn S. Lactobacillus rhamnosus L34 and Lactobacillus casei L39 suppress Clostridium difficile-induced IL-8 production by colonic epithelial cells. BMC Microbiology. 2014; 14:177.
9.  Boonma P, Spinler JK, Qin X, Jittaprasatsin C, Muzny DM, Doddapaneni H, et al. Draft genome sequences and description of Lactobacillus rhamnosus strains L31, L34, and L35. Stand Genomic Sci. 2014;9(3):744-54.