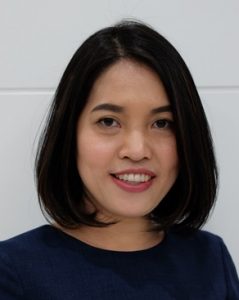 Poonnada Jiraanont, Ph.D.
Instructor, Faculty of Medicine
King Mongkut's Institute of Technology Ladkrabang
B.A., Psychology (Clinical Psychology), 1996
Thammasat University
M.Sc. (Clinical Psychology), 2001
Mahidol University
Ph.D. (Neuroscience), 2016
Mahidol University
Trainee
The Center for Medical Genetics Research, Rachanukul Hospital
Visiting Scholar
MIND Institute, University of California Davis, CA, USA
When Dr. Poonnada Jiraanont was a PhD candidate, she was interested in research about Autistic Spectrum Disorder. During her visit as a visiting scholar to the MIND Institute, University of California Davis, CA, she had a good chance to study and perform research on Fragile X Syndrome (FXS) under supervision of Professor Flora Tassone; subsequently she published four papers related to FXS (mosaicism and premutations). After receiving her PhD. (Neuroscience) from Mahidol University, she continues working on FXS particularly screening of premutation carriers in Thailand which has never been studied before. Currently, there are 3 ongoing projects about FXS: 1) Attitude towards carrier and prenatal screenings of Fragile X Syndrome in Thai reproductive women, 2) Carriers Screenings of Fragile X Syndrome: Case study at Sirindhorn Hospital, and 3) Mobile phone application for Fragile X syndrome. She is currently collaborating with Professor Tassone and plans to go to the MIND Wet Lab in 2021 when the COVID-19 situation allows.
In addition, Dr. Poonnada has a background on clinical psychology and neuroscience, therefore, she is also looking for projects related to neurodevelopmental disorders including autism and schizophrenia.
1.  Alolaby RR, Jiraanont P, Durbin-Johnson B, Jasoliya M, Tang HT, Hagerman R, Tassone F. Molecular Biomarkers Predictive of Sertraline Treatment Response in Young Children With Autism Spectrum Disorder.FrontGenet.2020 Apr;11:308. doi: 10.3389/fgene .2020 .00308
2.  Jiraanont P, Kumar M, Tang HT, Espinal G, Hagerman PJ, Hagerman RJ, Chutabhakdikul N, Tassone F. Size and methylation mosaicism in males with Fragile X syndrome. Expert Rev Mol Diagn. 2017 Nov;17(11):1023-1032. doi: 10.1080/14737159.2017.1377612.
3.  Jiraanont P, Sweha SR, AlOlaby RR, Silva M, Tang HT, Durbin-Johnson B, Schneider A, Espinal GM, Hagerman PJ, Rivera SM, Hessl D, Hagerman RJ, Chutabhakdikul N, Tassone F. Clinical and Molecular Correlates in Fragile X Premutation Females. eNeurologicalSci. 2017 Jun; 7:49-56. doi: 10.1016/j.ensci.2017.04.003. Epub 2017 Apr 11.
4.  Jiraanont P, Hagerman RJ, Neri G, Zollino M, Murdolo M, Tassone F. Germinal mosaicism for a deletion of the FMR1 gene leading to fragile X syndrome. Eur J Med Genet. 2016 Sep;59(9):459-62. doi: 10.1016/j.ejmg.2016.08.009. Epub 2016 Aug 18.
5.  Miranda P, Jiraanont P, Abrams LJ, Basuta KK., Youngblom J, Schneider A, Hagerman RJ, Tassone F. Contraction of a Maternal Fragile X Mental Retardation 1 Premutation Allele. J Med Cases. 2015;6(12):547-553 doi:http://dx.doi.org/10.14740/jmc2301w.