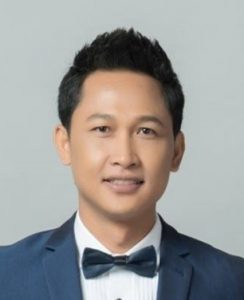 Veerayuth Kittichai, Ph.D.
Instructor, Faculty of Medicine
King Mongkut's Institute of Technology Ladkrabang
Bachelor (Medical Technology), 2007
Chulalongkorn University
Master, Medical Science (Molecular Epidemiology), 2011
Chulalongkorn University
Philosophy of Doctor, Medical science (Molecular epidemiology), 2015
Chulalongkorn University
Medical Service Staff
Department of Parasitology, Faculty of Medicine, Chulalongkorn University
Postdoctoral Researcher
Mahidol Vivax Research Unit, Faculty of Tropical Medicine, Mahidol University
Pandemic Covid-19 is a highly public health concern. It has caused more than 8 million cases and has a 5% mortality worldwide. During the emergency situation, great efforts made by the public health staff have been spent to restrict the viral spread, which has already become an important strategy on health policy in a short-time interval. A great number of artificial intelligence tools have been studied to identify drugs, diagnose CT-scan images, screen body temperatures, and detecting physical distancing. The virus is expected to have a serious impact on the classification and management of the viral disease. It had therefore interested us to develop a deep learning model based object detection algorithm to enable identification and distinguish the COVID-19 (SARS-CoV-2 virus) from other genomes such as bronchitis-CoV, SARS-CoV-1, and MERS. The approach should be able to predict the viral family name from the genome input. Percentage of viral identity and similarity between unknown and Wuhan reference viral genome will be studied. The medical tool may help facilitate the control of the viral disease worldwide.
1.  Kittichai V, Montriwat P, Chompoosri J, Bhakdeenuan P, Pengsakul T, Tawatsin A, ThavaraU, Siriyasatien P. Relationships between dengue virus infection in mosquito vector, (Aedesaegypti), dengue cases and weather conditions in Samut Sakhon Province, Thailand.Chula Med J 2015 Jul-Aug; 59(4): 347 – 63.
2.  Veerayuth Kittichai, Methee Sriprapun, Papawin Konklong, Nithita Thonsangin, Jakkrawarn Chompoosri, Apiwat Tawatsin, Usavadee Thavara, Padet Siriyasatien. Double Dengue Serotypes in Asymptomatic Populations Living in An Area of Thailand Endemic for Dengue Hemorrhagic Fever. Thai J Vet Med. 2015. 45(2): 205-212.
3.  Kittichai V, Koepfli C, Nguitragool W, Sattabongkot J, Cui L. Substantial population structure of Plasmodium vivax in Thailand facilitates identification of the sources of residual transmission. PLoS Negl Trop Dis. 2017;11(10):e0005930.
4.  Kittichai V, Nguitragool W, Ngassa Mbenda HG, Sattabongkot J, Cui L. Genetic diversity of the Plasmodium vivax multidrug resistance 1 gene in Thai parasite populations. Infect Genet Evol. 2018;64:168-77.
5.  Ngassa Mbenda HG, Wang M, Guo J, Siddiqui FA, Hu Y, Yang Z, Kittichai V, Sattabongkot J, Cao Y, Jiang L, Cui L. Evolution of the Plasmodium vivax multidrug resistance 1 gene in the Greater Mekong Subregion during malaria elimination. Parasit Vectors. 2020;13(1):67.
6.  Li Y, Hu Y, Zhao Y, Wang Q, Ngassa Mbenda HG, Kittichai V, Lawpoolsri S, Sattabongkot J, Menezes L, Liu X, Cui L, Cao Y. Dynamics of Plasmodium vivax populations in border areas of the Greater Mekong sub-region during malaria elimination. Malar J. 2020;19(1):145.