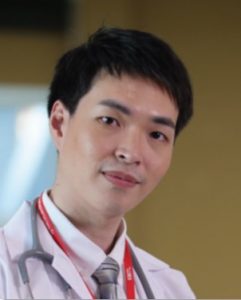 Wikrom Wongpaiboonwattana, Ph.D.
Instructor, Faculty of Medicine
King Mongkut's Institute of Technology Ladkrabang
B.Sc. (Biology), 2010
Chiangmai University
M.Sc. (Medical Biochemistry), 2013
Chulalongkorn University
Ph.D. (Cell and Developmental Biology), 2017
Dundee University, United Kingdom
Bachelor of Laws (LL.B.), 2017
Sukhothai Thammathirat Open University
Dr. Wikrom is a molecular biology expert. His research focuses on genetic causes of developmental diseases. Even though most genetic diseases are caused by a single gene defect, many neurodevelopmental diseases are multifactorial and the pathological basis underlying them are still to be discovered. He is interested in diseases that have strong genetic contribution such as autism spectrum disorder. The scope of his research includes using of genomic and molecular techniques to identify mutations that contribute to the development of neurodevelopmental diseases. His research also involves prediction and analysis of functional changes of the gene upon mutations by using clinical, computational, and experimental approaches. His current project is to search for potential mutations in patients with autism spectrum disorder who possess untypical phenotypes. The project includes exome sequencing, population analysis, and computational prediction of mutation effects on RNA and protein structures.
1.  Speakman CM, Domke TC, Wongpaiboonwattana W, Sanders K, Mudaliar M, van Aalten DM, Barton GJ, Stavridis MP. Elevated O-GlcNAc levels activate epigenetically repressed genes and delay mouse ESC differentiation without affecting naive to primed cell transition. Stem Cells. 2014;32(10):2605-15.
2.  Wongpaiboonwattana W, Stavridis MP. Neural differentiation of mouse embryonic stem cells in serum-free monolayer culture. J Vis Exp. 2015 May 14(99):e52823.